Howdy! We hope you're doing well and beating the COVID blues as best you can.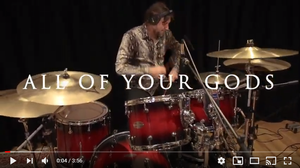 Maybe new music will help? Our new EP - Live at Lightning - is out today and available exclusively for download from Bandcamp. We've decided to ditch Spotify etc. and sell our music directly to our fans; it just makes more sense. 
The EP was recorded at Lightning Studios in October, prior to "Lockdown 2.0". We recorded 4 live songs; All of Your Gods, Into the Fading Light, Cellar Door and I Just Wanted to Tell You. We also recorded live videos for 3 of tracks which you can view on our YouTube channel (thanks to Danielle Booden for filming the day). 
The EP also has an exclusive remix of Cellar Door; it's the perfect indie dance tune to compliment the live tracks. 
We hope you enjoy it and we'd love to get your feedback. 
Have a Merry Christmas and a Happy New Year 
Love. 
Pete, Stu, Jas & Matt 
The Magic Es